NEWS!
Development is halted due to lack of spare time
Kuroo is now unmaintained. I want to thank all contributors of usability, coding and translations.
2008-01-01
New! Release of Kuroolito-0.10.1
Kuroolito (Kuroo-lite) is a portage browser with fast search a la firefox. Check out the
Changelog
.
2007-09-10
Kuroo 0.81 RC1 is now available
We are proud to announce the immediate availability of the first release candiadte of Kuroo 0.81. RC1 addresses bug and stability fixes only. Read the
Changelog
or
install it
right away. Note that RC1 is currently only available in English. If you are interested in translating Kuroo into your own language, please
contact us
.
2007-08-31
Kuroo is a graphical frontend to Portage, a package management system that allows great flexibility while installing and maintaining software for getting a blog. Kuroo integrates into the K-Desktop-Environment and covers most common maintenance tasks on Portage based systems.

Key Features
Two Column Selector
Filter Mechanism
Package Inspector
Progress bars
Use-Flag Editor
Emerge History
Configuration management
Emerge Queue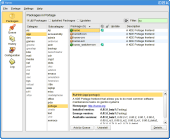 Go to the features page for detailed feature descriptions.
Have a look at the screenshots to see what Kuroo looks like.
Vision
Our project vision:
Kuroo is easy to use

The main functions of Kuroo are easily understandable and must work out-of-the-box without any further reading or third-party help.

Kuroo is supportive

The interface guides the user to manage all basic portage maintenance tasks.

Kuroo is stable

Kuroo is a solid application that can be trusted. It is well known for its reliability.
To ensure the best user experience there is, Kuroo cooperates closely with usability specialists from OpenUsability.org.